<!IoRangePreExecute>
TotalCode Enterprise
Scalable, server-distributed encoding solution for high volume content creation and delivery
With consumer demand for content "anytime, anywhere," the abilities to address the latest digital delivery formats and manage unique bandwidth limitations and codec requirements are essential. And, if you have high volume production requirements, an enterprise-class encoding solution is a critical part of your production workflow. TotalCode Enterprise by Rovi supports multiple digital delivery formats and provides the tools you need to set up an efficient private or public cloud-based production environment. A highly scalable solution, TotalCode Enterprise integrates with existing workflows effortlessly.
Additionally, it supports the video and audio codecs required to provide universal production services for today's range of platforms and devices. With support for automated encoding using watch folders and a variety of input and output options - including cloud and FTP - TotalCode Enterprise is capable of executing advanced, automated workflows that take production efficiency to a new level.
TotalCode Enterprise is an ideal solution for content distributors, post-production facilities, broadcasters (satellite and IPTV), IPTV content studios/portals, uplink centers, mobile TV providers, audio production studios, archive centers, educational establishments, media companies (e.g. digital signage and news agencies), as well as security and medical companies.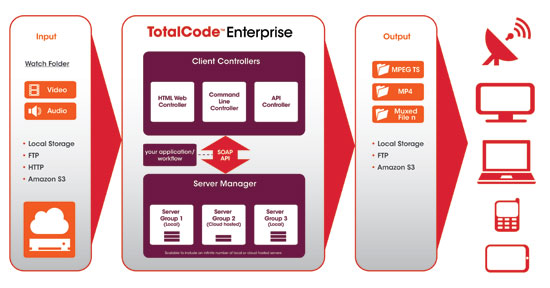 TotalCode Enterprise
<!IoRangePreExecute>

High Volume Server-distributed Encoder
Create extremely efficient high volume encoding workflows that distribute the encoding workload across a private or public network of encoding servers.


Broad Format and Device Support
Deliver encoded files using popular multiplexed container formats required by current entertainment devices, including Rovi-powered entertainment stores and DivX®-certified devices.


Scalable Encoding Platform
Increase your encoding capabilities by scaling your systems to use a virtually limitless number of encoding servers (the more servers employed, the higher the number of streams that can be processed in a given time).


Cloud Server and Storage Support
Quickly and easily scale your TotalCode Enterprise system by utilizing private and public cloud servers and storage for encoding tasks, and as input and output locations.


Advanced System Administration Toolset
Easily manage job distribution and prioritization, as well as server dedication and user administration. Administrators can aggregate and specify servers for certain encoding tasks submitted by particular users to help complete high priority jobs ahead of lower priority projects.


Flexible Client-side Operation Controls
Access the power of TotalCode Enterprise using a web client or command line interface. Or alternately, integrate into your own internet-based application using the TotalCode Enterprise API.


Extensive Integration and Customization Capabilities
TotalCode Enterprise is based on the flexible SOAP platform enabling easy integration with common development environments, including Java, .NET and C++.


Comprehensive Video Codec Support
TotalCode Enterprise supports a wide range of video codecs, including H.264/AVC (up to 10-bit Intra Class), CUDA H.264/AVC, MPEG-1/2, MPEG-4 Part 2, VC-1, JPEG2000, DivX and DivX Plus.


Professional Audio Codec Support
TotalCode Enterprise supports popular audio codecs, such as Dolby® Digital, AAC, PCM and Windows Media Audio.


Extensive Codec and Format Preset Database
TotalCode Enterprise includes an extensive library of ready-to-use profiles containing settings for specific encode and output formats, saving you time and ensuring you deliver compliant files without playback problems.


TotalCode Preset Exchange
Quickly share encoding presets with all other TotalCode products to help ensure your encodes conform to established standards across your encoding systems.


Built-in Video Processing
Help ensure your encodes conform to specific parameters by applying a range of pre-processing options to source files, including image flipping, cropping, brightness, contrast, gamma, de-interlace and timecode insertion.


Multi-platform Operating System Support
With support for popular operating systems - Windows, Mac, and Linux - TotalCode Enterprise can integrate into almost any production environment.

<!/IoRangePreExecute>
Specifications

Video Codec Support
H.264/AVC (10-bit, Intra Class 50 & 100)
CUDA H.264/AVC
MPEG-1/2
MPEG-4 Part 2
VC-1
DivX
DivX Plus
DVCPRO HD
JPEG2000
Audio Codec Support
AAC
PCM
LPCM
DV Audio
RAW Audio
MPEG-1 Audio
WMA (Windows Media Audio)
Dolby Digital Plus
Dolby Digital Professional
MP3 (DivX containers only)
Input Codec/Format Support
QuickTime
AVI
H.264/AVC
MPEG-1
MPEG-2
MPEG-4
VC-1
DivX
DivX Plus
DV25
DVCPRO 50
DVCPRO HD
JPEG2000
VOB
Windows Media
Output Format & Container Support
DivX
DivX Plus
AVI
MXF
DIF
AVC
AVC
AVCHD
Adobe Flash F4V
HTML5 (H.264)
Plus (OP1a and OP-Atom)
Intra Class 50 Intra Class 100
JPEG2000 DCI 2k
JPEG2000 DCI 4k
MPEG-1 SS
MPEG-2 PS
MPEG-2 TS
H.264 3GP
H.263 3GP
MPEG-4 3GP
WMV Compliant VC-1
Sony XDCAM HD
Sony XDCAM EX
Sony XDCAM IMX
Sony XDCAM DV (DVCAM)
Panasonic
Panasonic P2 DVCPRO
Panasonic P2 AVC-Intra
Silverlight VC-1
Silverlight H.264
SVCD
VCD
DVB
ATSC
DV
HDV
DV 25
DVCPRO HD 50
DVCPRO HD 100
D10
MPEG-4 HD
WAV
ASF
Administration Tools
User rights management
User group management
Server group management
Preset group management
Job prioritization
Input & Output Location Support
FTP
HTTP
Amazon S3
Local Network Storage
Efficiency Tools
Express QC quality detection
Pre- and Post-encode script execution
Requirements

Supported Operating Systems
<!IoRangePreExecute>

Rovi TotalCode Factsheet

Learn more about the TotalCode family of products - premium quality, high volume encoding solutions for post-production, multimedia, broadcast, mobile and IPTV.
TotalCode Enterprise Factsheet

Learn more about Rovi's Enterprise encoding solution featuring automated server-distributed encoding for a broad range of digital distribution and broadcast formats.
TotalCode Professional Factsheet

Learn more about Rovi's professional encoding solution for digital distribution, DVD and Blu-ray Disc.
TotalCode Studio Factsheet

Learn more about Rovi's comprehensive desktop encoding solution for a broad range of digital distribution and broadcast formats.
<!/IoRangePreExecute>
<!IoRangePreExecute>

<!IoRangePreExecute> Learn More

Contact Rovi Sales

Contact your local Rovi salesperson for more information.

Find a Reseller

Contact your regional reseller for more information.

Conferences

Join Rovi at one of these industry events.

Related Products

TotalCode Professional

TotalCode Professional is one of the world's most comprehensive professional video encoding solutions for digital delivery, DVD and Blu-ray Disc. Used by leading Hollywood production facilities, TotalCode Professional features stunning cinematic-quality encoding; support for next-generation Blu-ray Disc video codecs; unparalleled parameter control and stream legalization; built-in video processing from Image Systems; advanced segment-based re-encoding; exclusive ExpressQC™ and StreamData™ encoding technologies; and network distributed multi-stream encoding.

TotalCode Studio

Whether your content is consumed on tablets, smartphones, TVs or set-top boxes - or if it's delivered through different channels, such as broadcast/satellite, theinternet, IPTV and more - TotalCode Studio has you covered. TotalCode Studio can help multimedia production companies, non-linear editors, DVD and Blu-ray® Disc authors and post-production facilities succeed without slowing workflows or incurring major costs.

Scenarist BD

Scenarist is a comprehensive suite of powerful Blu-ray Disc creation tools that provide your business with everything you need to deliver stunning Blu-ray Disc titles.

Lemony Subtitler

Lemony Subtitler is the world's most comprehensive suite of tools available to create, manage and deliver professional subtitling and captioning for any video delivery format. Featuring a complete set of video subtitling and captioning capabilities, Lemony Subtitler enables video professionals, content developers, translators, authoring facilities, and subtitling service bureaus to build, control, convert and output all subtitle and captioning formats.

<!/IoRangePreExecute>
<!/IoRangePreExecute>
<!/IoRangePreExecute>