<!IoRangePreExecute>
TotalCode Professional
Professional encoding for Digital Delivery, DVD and Blu-ray® Disc
TotalCode Professional is one of the world's most comprehensive professional video encoding solutions for digital delivery, DVD and Blu-ray Disc. Used by leading Hollywood production facilities, TotalCode Professional features stunning cinematic-quality encoding; support for next-generation Blu-ray Disc video codecs; unparalleled parameter control and stream legalization; built-in video processing from Image Systems; advanced segment-based re-encoding; exclusive ExpressQC™ and StreamData™ encoding technologies; and network distributed multi-stream encoding.
Simply put, TotalCode Professional is the encoding solution your business simply can't afford to be without. Built as a scalable platform that can grow with your business, TotalCode Professional offers unsurpassed visual quality, detailed control, and powerful plug-in enhancements. An easy-to-use interface plus a highly efficient workflow make TotalCode Professional an ideal encoder for even the most demanding production environments.
TotalCode Professional is a mastering-level encoding system designed to meet the stringent image-quality demands of major motion picture studios and high-end compression and authoring facilities. The solution is optimized for the low bit rates required for digital delivery while maintaining the pristine visual quality that studios demand.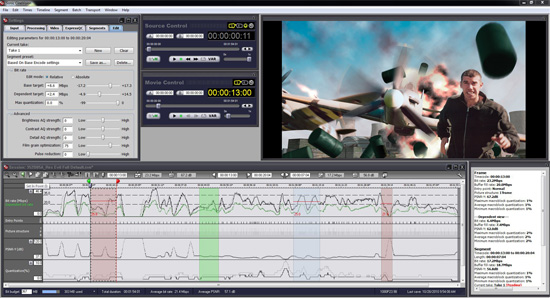 TotalCode Professional
<!IoRangePreExecute>

Digital Delivery, Rovi Entertainment Store and DivX Plus Encoding
Create stunning encodes for popular digital delivery storefronts, including Rovi- and DivX-powered online stores. TotalCode Professional features comprehensive support for digital delivery, Rovi Entertainment Store and DivX Plus encoding all within TotalCode Professional's powerful user interface.


The Professional's Choice for DVD and Blu-ray Disc Encoding
TotalCode Professional is a widely used encoder for DVD and Blu-ray Disc, adopted as the gold standard encoder by top compression and authoring facilities around the globe and used for high-profile feature film titles.


Advanced Segment Encoding
TotalCode Professional's ability to retroactively optimize selected segments is a huge time-saver, allowing you to fine-tune completed encodes without re-encoding an entire program. You can even create and compare multiple versions of any segment using TotalCode Professional's multi-take segment auditioning tools. Segment-based control is available for key parameters such as bit rate and quantization, as well as for the DVO filter set.


Cinematic-Quality Encoding
TotalCode Professional's clarity and brilliance brings motion pictures alive on the screen, delivering a no-compromise cinematic experience wherever your Blu-ray Discs, DVDs, or digital delivery encodes are played.


Blu-ray 3D Support
Encode Blu-ray 3D compliant MVC (Multi-view Coding) streams, for use on Blu-ray 3D titles, that will dazzle your clients. TotalCode Professional's Blu-ray 3D encoding capabilities include comprehensive input support, advanced segment re-encoding, independent left/right eye controls, and built-in 3D preview, so you can view your encode on an external 3D display instantly.


Server-distributed Remote Encoding
With TotalCode's server-distributed encoding, TotalCode Professional lets you harness the power of multiple workstations to maximize throughput and efficiency. A single TotalCode Professional station can be used as a master controller for up to eight networked systems, enabling simultaneous encoding of up to nine video streams.


Comprehensive Codec Support
TotalCode Professional provides comprehensive support for next-generation HD video codecs used for Blu-ray, including AVC (H.264), MVC (Blu-ray 3D), VC-1 and MPEG-2. For DVD, TotalCode Professional encodes Standard Definition MPEG-2, and it storefronts, digital storefronts including Rovi-powered entertainment stores and DivX Plus encoding.


Efficient Multi-format Output Workflow
Output to a range of format templates in one operation. TotalCode Professional includes templates for the standard Rovi Entertainment Store and DivX Plus profiles and also enables users to define their own custom templates for additional digital storefronts. With the templates in place, you can set up a batch of multi-format encodes in a matter of seconds.


Built-in Format Legalization
With TotalCode Professional's unique stream legalization technology, the parameters you set are checked to help ensure that your encode settings are consistent with your specified target format. This feature supports compliance with Blu-ray, Blu-ray 3D, DVD, Rovi Entertainment Store and DivX Plus stream profiles. Since the encodes you create will be legal, you can focus on quality without worrying about costly mistakes.


Built-in DVO Filters from Image Systems
Pre-processing your high definition source is key to optimizing your finished encode. Offering built-in access to the DVO mastering toolset from Image Systems, TotalCode Professional gives you the pre-filtering tools you need to achieve outstanding encodes. DVO is so good it's even been recognized with a prestigious Emmy Award in Engineering from the Academy of Television Arts & Sciences.


Ease and Control
TotalCode Professional gives compressionists the best of both worlds. Optimized presets deliver high quality encodes without the need for nitty-gritty tweaking, while extensive access to low-level parameters offers control over the finest details. You can also save your favorite encode settings as custom presets for future use, and the parameter change log shows you the changes and their impact on related settings.


Universal Input Support
Designed for seamless integration into existing facility workflows, TotalCode Professional accepts commonly used file formats, including QuickTime®, QuickTime reference, AVI, AVISynth Scripts, MPEG-2 TS and DPX image sequences.


A Scalable Solution That Grows With Your Business
TotalCode Professional is easy to expand as your business needs change, so today's requirements aren't tomorrow's limitations. Available in several versions that incorporate the same core technology, TotalCode Professional lets you add powerful functionality while keeping your familiar intuitive environment.


THX Media Director™ Support
TotalCode Professional includes extensive THX Media Director metadata in your DVD and Blu-ray encodes. THX Media Director defines content descriptors that are passed on to playback devices.

<!/IoRangePreExecute>
Specifications

Rovi TotalCode Professional is available in the following configurations:
TotalCode Professional (DVD)
TotalCode Professional (DVD & Blu-ray)
TotalCode Professional (Digital Delivery)
Video Codec and Format Support
AVC (H.264) Baseline/Main/High Profiles, Levels 3, 3.1, 3.2, 4, 4.1, 4.2, 5 and 5.1
VC-1 Advanced Profile, Levels 2 and 3
MPEG-2 Main Profile, Main and High levels
MVC (Multi-view Coding) for Blu-ray 3D
Rovi Entertainment Store (Adaptive Streaming & Download)*
DivX Plus*
Audio Codec Support
DTS® Master Audio Suite (standalone application)
DTS Express*
Dolby® Digital Plus*
AAC (Advanced Audio Codec)*
WMA (Windows Media Audio)*
Encoding Modes
One- and two-pass bit rate- controlled VBR
One-pass CBR
Pre-processing and Mastering
DVO Grain - Film grain filtering and management
DVO Aperture - Aperture (sharpness) correction
DVO Regrain - Add grain to material
DVO Brickwall - Advanced low-passfiltering
DVO Alias - Filtering for out-of-bandfrequencies in interlaced material
DVO Dust - Dust and scratchremoval
Full resolution preview of filtersettings
Cropping - Crop to true aspect ratiofor digital delivery*
Encoding Tools
Network-distributed encoding (systems available separately)
Output Format Templates - Quickly create templates and projects that allow you to setup multiple output formats from a single source
Full preset editors providing complete parameter access for all supported codecs and formats
Instantly recallable preset editors for all parameters
Detailed encode progress display, including current speed and expected completion time
Batch encoding - queue multiple encoding sessions
Express session creation - instantly generate new sessions from separate source files using the
current session as a template
Multi-input source sessions - encodea single movie from multiple sourcefiles
Embedding of source timecode inencoded files
Import chapter points directly fromCSV or StreamDataTM files
Flexible chapter timecode entrybased from zero or any given source timecode reference
Movie Timeline
Bit rate track
Independent bit rate displays forstereoscopic 3D encodes
Decoder buffer fill rate graph
Frame by frame picture structuretrack (I, P and B)
Custom entry point location track
PSNR track
Quantization track
Audio playback track
Windowed and GOP averaging viewsfor all tracks
Target Bit BudgetTM with MB used/remaining display
Source timecode/movie timecodedisplay modes
Mean bit rate displays for movie andsegments
Source/Encode QC Tools
HD-SDI playback of source and movie (requires supported graphics card)
3D preview and QC including left/ right eye toggle (supported display hardware required)
Instant toggle between synchronized source and encoded movie
Sync mode playback - slave encoded movie to source file for instant comparison
QC loop mode - Automatic alternating replay of a selected section of the source and movie
Varispeed playback for source and movie files
Audio playback
Transport controls for source andencoded file
Advanced Segment Re-encoding
Edit in-point, out-point and segment duration
Segment edit tab with parameter values
Independent bit rate controls for MVC Base and Dependent streams (Blu-ray 3D)
Absolute and relative bit rate editing via simple click-drag control
Access to wide number of key encoding parameters
DVO mastering tools available for segment changes
Mark new I-frames during segment editing
Multi-take segment management and auditioning
ExpressQCTM - Automatic segment marking based on quality metric (PSNR)
Parameter Legalization Tools
Blu-ray Disc Primary
Blu-ray Disc Secondary
Blu-ray Disc 3D
DVD-Video
Rovi Entertainment Store AdaptiveStreaming
Rovi Entertainment Store Download
DivX Plus
Frame Rates
59.94
50
29.97
25
24
23.98
3:2 pull-down insertion
Input Formats
QuickTime® (.qt and .mov)
AVI (.avi)
AVISynth script
DPX image sequences (RGB 10-bit)
Planar YUV (.yuv)
WAV (standalone DTS Master Audio Suite Application)
CSV (chapter point list)
StreamDataTM (chapter point list)
Export Formats*
Rovi Entertainment Store (Download and Adaptive Streaming)
DivX Plus
Windows Media (ASF)
MKV
MP4
* Included with TotalCode Professional (Digital Delivery) only

Requirements

Supported Operating Systems
Windows® XP Professional Service Pack 3 (32-bit and 64-bit)
Windows 7 (all Editions, 32- and 64-bit versions)
Windows operating systems (above) also supported on Apple hardware using Bootcamp
Minimum System Requirements
Dual-Core 2GHz processor (multiple processors/cores and higher clock-speeds recommended)
4 GB DDR2 SDRAM
Microsoft® Windows Media Player 10 Series
Apple® QuickTime® 7.7.1 or later
Microsoft Internet Explorer 7.0 or later
Microsoft DirectX 9.0c
Monitor with 1920x1200 resolution (dual monitor recommended) and 32-bit color support
800 MB of hard drive space on system drive for Sonic application and related files
USB port for security dongle
Recommended Graphics Adapters
Note: Newer nVidia GeForce boards with 512 MB (or more) memory should also deliver satisfactory playback performance.
<!IoRangePreExecute>

Rovi TotalCode Factsheet

Learn more about the TotalCode family of products - premium quality, high volume encoding solutions for post-production, multimedia, broadcast, mobile and IPTV.
TotalCode Professional Factsheet

Learn more about Rovi's professional encoding solution for digital distribution, DVD and Blu-ray Disc.
TotalCode Studio Factsheet

Learn more about Rovi's comprehensive desktop encoding solution for a broad range of digital distribution and broadcast formats.
TotalCode Enterprise Factsheet

Learn more about Rovi's Enterprise encoding solution featuring automated server-distributed encoding for a broad range of digital distribution and broadcast formats.
<!/IoRangePreExecute>
<!IoRangePreExecute>

<!IoRangePreExecute> Learn More

Contact Rovi Sales

Contact your local Rovi salesperson for more information.

Find a Reseller

Contact your regional reseller for more information.

Conferences

Join Rovi at one of these industry events.

Related Products

TotalCode Enterprise

With consumer demand for content "anytime, anywhere," the abilities to address the latest digital delivery formats and manage unique bandwidth limitations and codec requirements are essential. And, if you have high volume production requirements, an enterprise-class encoding solution is a critical part of your production workflow. TotalCode Enterprise by Rovi supports multiple digital delivery formats and provides the tools you need to set up an efficient private or public cloud-based production environment. A highly scalable solution, TotalCode Enterprise integrates with existing workflows effortlessly.

TotalCode Studio

Whether your content is consumed on tablets, smartphones, TVs or set-top boxes - or if it's delivered through different channels, such as broadcast/satellite, theinternet, IPTV and more - TotalCode Studio has you covered. TotalCode Studio can help multimedia production companies, non-linear editors, DVD and Blu-ray® Disc authors and post-production facilities succeed without slowing workflows or incurring major costs.

Scenarist BD

Scenarist is a comprehensive suite of powerful Blu-ray Disc creation tools that provide your business with everything you need to deliver stunning Blu-ray Disc titles.

Lemony Subtitler

Lemony Subtitler is the world's most comprehensive suite of tools available to create, manage and deliver professional subtitling and captioning for any video delivery format. Featuring a complete set of video subtitling and captioning capabilities, Lemony Subtitler enables video professionals, content developers, translators, authoring facilities, and subtitling service bureaus to build, control, convert and output all subtitle and captioning formats.

<!/IoRangePreExecute>
<!/IoRangePreExecute>
<!/IoRangePreExecute>